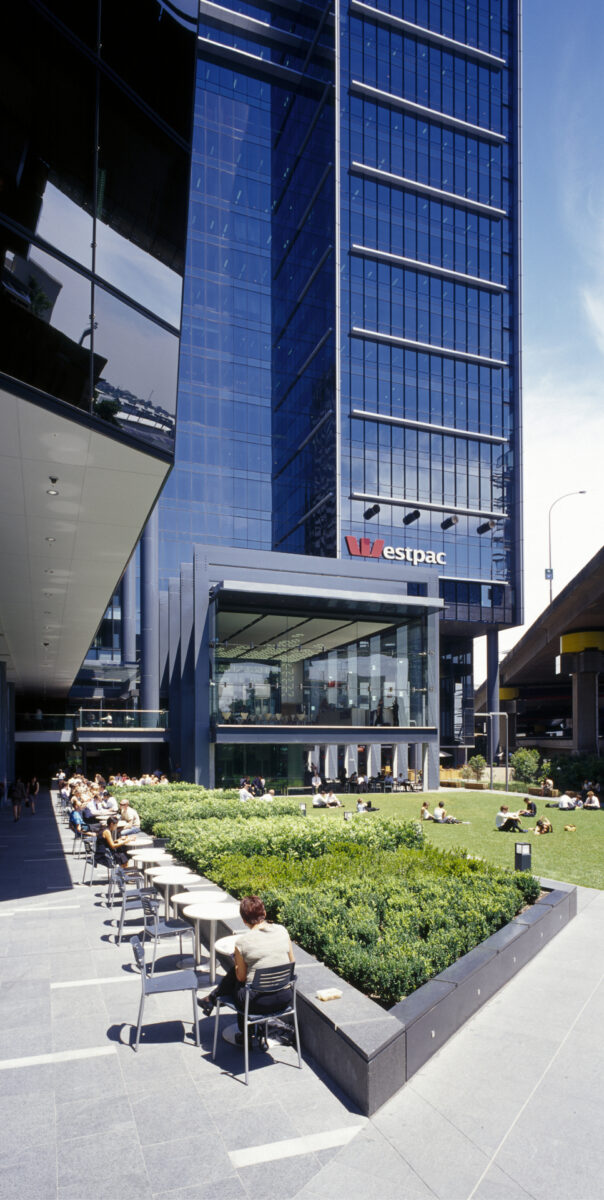 Occupying an entire city block at the western edge of the CBD, Westpac Place demonstrates how speculative development can make a significant contribution to the public realm as well as realise commercial imperatives.
As Westpac's financial hub, the project challenges conventional concepts of a "head office" by welcoming the city to share the new public places, facilities and landscape park created by the project, and by ensuring that the workforce within the building, itself the size of a large regional town, does not become an isolated community within the city.
The secret to the success of this development lies in the initial planning concept that sought to provide public benefit, and understood the ingredients necessary for success. Westpac Place is a joy to be in, it has reinvigorated this part of town, and Sydney is the real winner here.
Lloyd Rees Award for Urban Design
Jury Citation, AIA NSW Awards, 2007
The scale and complexity of the site required a unique urban response. To establish the primacy of public territory, the commercial building is raised above the ground plane, allowing the ground plane to terrace down across the site. Changes in level distinguish public space and the entrance to the commercial tower. Public and private realms overlap and interlock, creating a vibrant combination of active and passive spaces.
The building provides 32 campus floors and 865 public carparking spaces. 
Two towers, slipped around a central core is the key compositional tactic in plan and elevation. Metal and glass cladding, expressed as planes and blades, reinforces the dynamic composition within the skyline. In contrast, the podium relates to the scale and materials of adjoining heritage buildings.
From the time of the first site visit, I have envisioned integrating the minimal aesthetics of the artwork with those of the building to carry the work beyond it's apparent confines and explore the notion of the mixing of light, both of fluoro and fluoro, and of natural and artificial.
Jonathan Jones outlining the concept for his installation white lines in the foyer.
Westpac Place demonstrates the positive results that can be achieved through the successful integration of retained and restored built heritage, high quality urban and architectural design and innovative construction techniques, coupled with proactive collaboration between the developer and the owner.
Professor Chris Johnson
Executive Director Cities and Centres Division, NSW Department of Planning
2007
API (NSW) Property Development Award
RAIA NSW Chapter, Lloyd Rees Award for Urban Design
RAIA NSW Chapter, Commendation for Commercial Architecture
2006
NSW Urban Taskforce Development Excellence, Overall Winner
NSW Urban Taskforce Development Excellence, Commercial Development
Master Builders Australia, National Award for Commercial Building over $100 M