Australian Museum
Australia's First Museum
The Australian Museum, in sandstone buildings built successively by Colonial and Government Architects, is Australia's pre-eminent natural history institution. JPW developed a strategic Masterplan for the Museum to inform future developments of the country's oldest museum which has occupied the site since 1850.
Following preparation of the Masterplan, JPW completed the Collections and Research Building, the first significant building at the Museum for more than 20 years, housing some of the Museum's 80 research scientists and 14.5 million invaluable specimens; and a contemporary upgrade of Walter Liberty Vernon's original gallery design.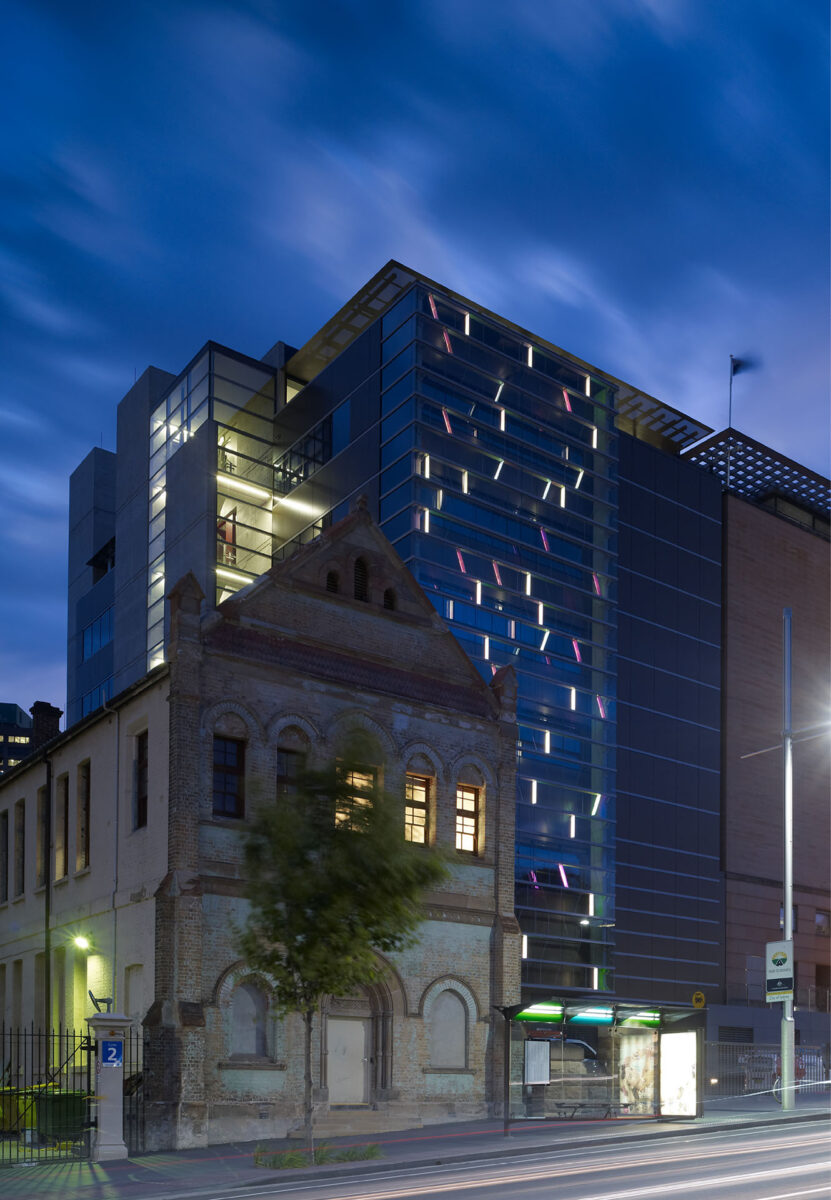 The Collections and Research Building relates to the scales, proportions and rhythm – and seamlessly integrates circulation, egress and services – of adjacent heritage buildings. Contemporary materials and visual harmony with heritage are balanced. Co-locating laboratories with consolidated collections protects specimens and releases heritage space for exhibitions.
The double skin façade, providing passive thermal and acoustic benefits, is inspired by the activities of collecting and research. The dichroic glazing pattern, abstracted from a microscope photograph of a moth's wing, produces shimmering, dynamic colours through the same optical effects as iridescent butterflies wings.
A simple plan resolves complex requirements, economically meeting the Museum's aspirations – internal & external: individual, institutional and civic.
Energy demands are passively minimised and risks to specimens reduced, ensuring their preservation as labs and workspaces, along the east with outlook and natural light are co-located with collection storage away from the exterior; a corridor between extends and completes the circulation of the existing buildings.
Exposed honest concrete structure and services throughout provides thermal mass and minimises material usage.
JPW delivered a fantastic outcome for the Museum – a landmark building, energy efficient laboratories, office spaces and collection storage facilities that will enable the Australian Museum to continue its tradition of excellence in cultural and scientific research – all on a complex site and within a tight program and modest budget.
Frank Howarth
Director, Australian Museum
JPW's base-building upgrade works at the Australian Museum provide essential exhibition infrastructure and a contemporary paint scheme that reveals and celebrates the unique character of Walter Liberty Vernon's original design. The design reinstates the dramatic top-lit roof light through both gallery halls.