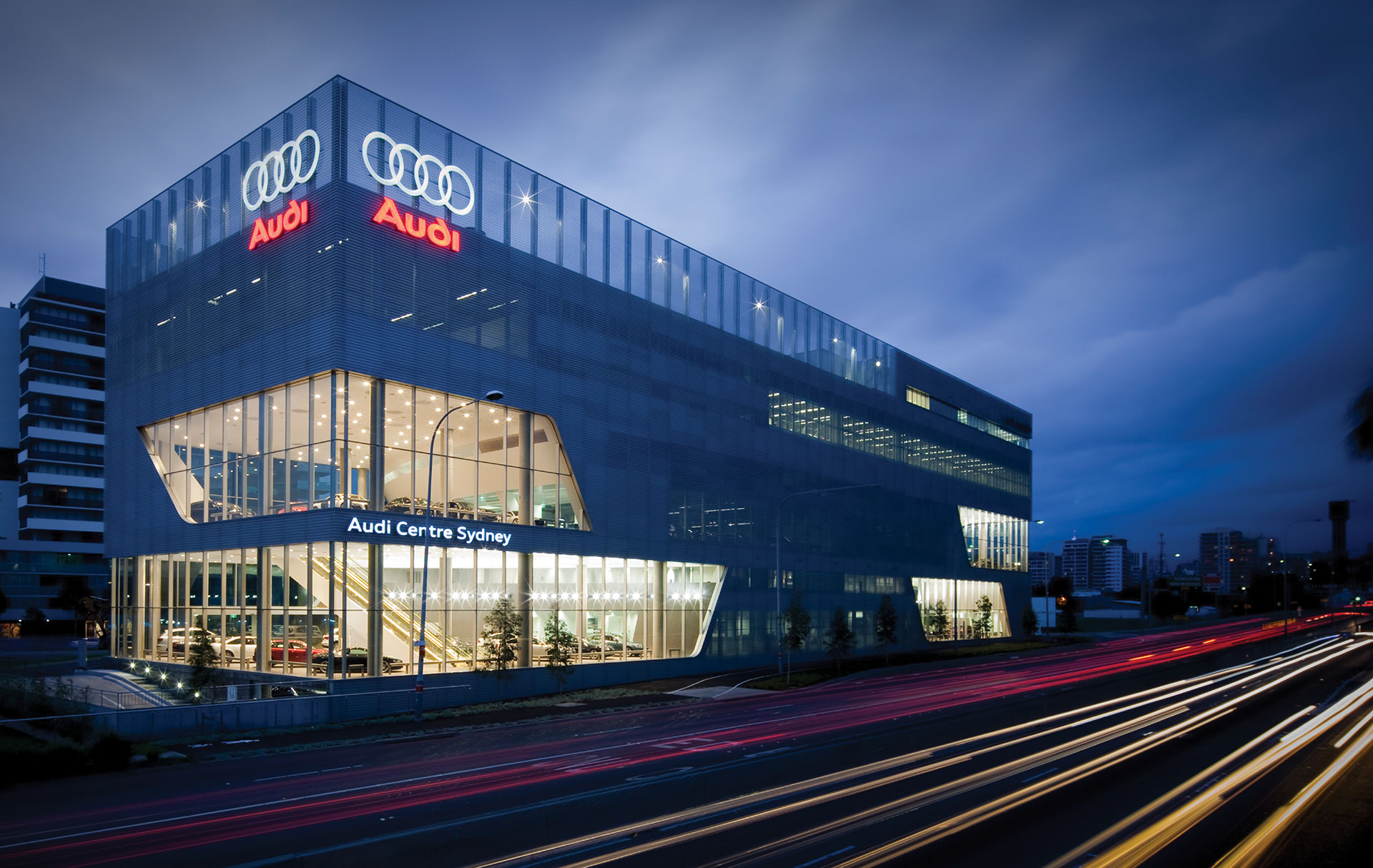 Audi Lighthouse
A New Typology
The traditional car showroom is only suited to low-density suburban sites.
Audi envisioned a new typology – a multi storey structure that could consolidate their diverse operations within a compact inner-urban site including: New & Used Car Galleries; Offices; public Café; Conference and Training spaces; Workshop and Head Office facilities.
Interpreted from the Allmann Sattler Wappner conceptual approach, the scheme is conceived as a simple, rectangular building counterpointed by dynamic curved showrooms and threaded by a coiled vehicle ramp which uniquely provides vehicle access to all levels; basement to rooftop.The spatial interconnectivity and complexity has produced a vital and active experience with a high-level of amenity and an interesting sequence of unexpected and dynamic spaces to delight the visitor.
This stunning building is a place to experience the world of Audi. It is much more than 'just' a dealership: we will host art exhibitions, press and public events, musical performances, meetings and training sessions, ensuring this building is always full of activity and life – a shining example of the Audi brand – quite literally a 'lighthouse'.
Joerg Hofmann
Managing Director
Audi Australia
Sustainable design initiatives ranging from urban to technical include the efficient use of a compact, inner-urban site; modular, adaptable planning; durable material selection; zero-water workshop; rainwater harvesting and recycling; and innovative facade design and planning that enables natural ventilation to over 50 per cent of the building — a significant achievement for this building typology.
Commercial Architecture Award
Jury Citation, AIA NSW Awards, 2010
The project set a new benchmark for Audi's showrooms worldwide; exerting a knock-on influence internationally. The architects here have achieved durability, quality and performance through design and engineering excellence; a philosophy strongly in sync with the client's product.
Commercial Architecture Award
Jury Citation, AIA NSW Awards
2010
Architecture Award for Commercial Architecture and Commendation for Interior Architecture, NSW Architecture Awards