A by Adina, Sydney
A landmark city hotel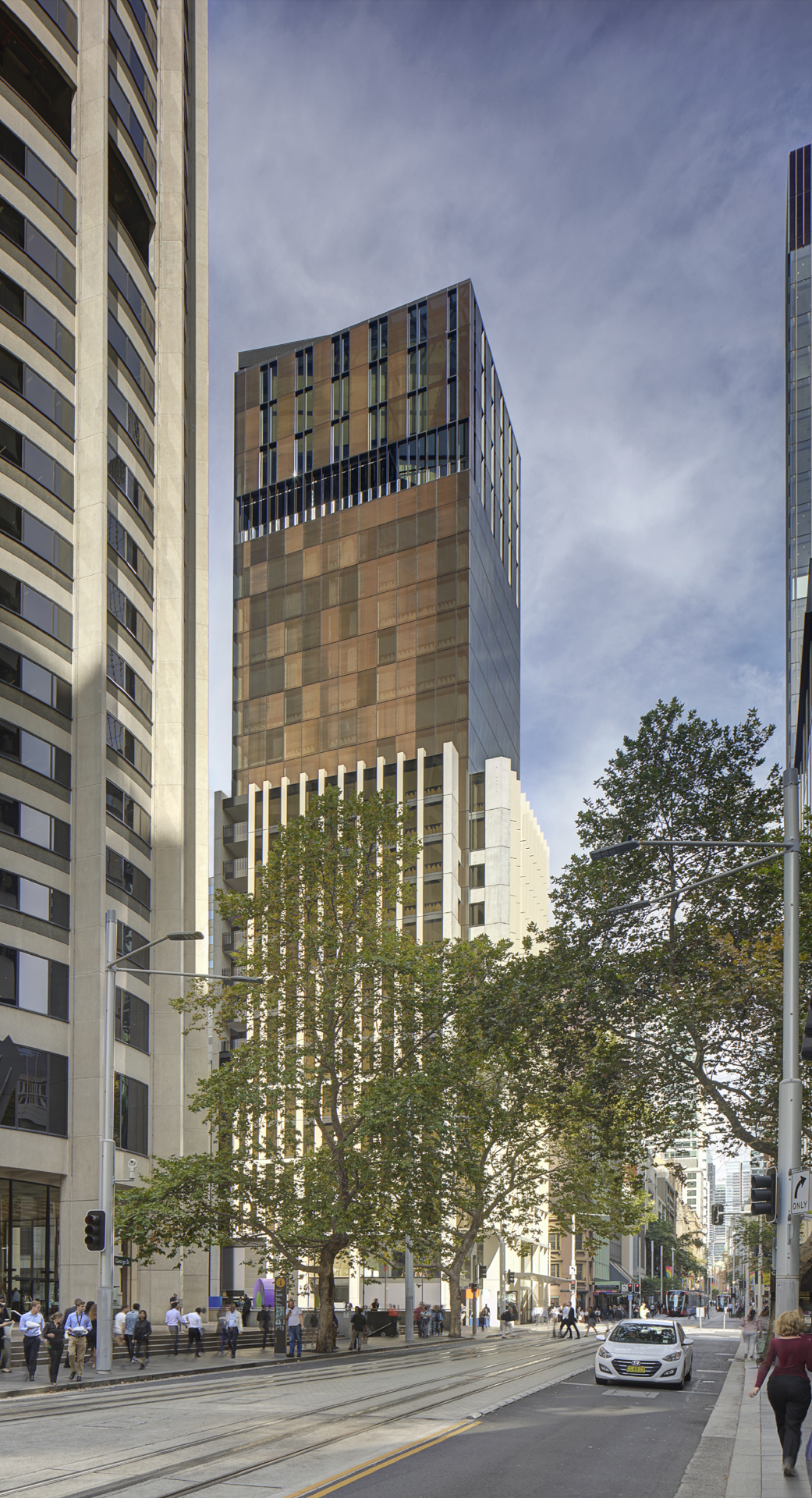 A by Adina, Sydney is a 194-room apartment hotel and 26-storey tower-in-the-round on George Street adjacent the iconic Australia Square plaza.
Every square metre of the small 597m2 island-like site has been optimized to create a compact yet distinctive and comfortable city hotel which is focussed in every respect – from urban form to the finest interior details – as a singular architecture that prioritises the experience of the guest, the visitor, the street, the city and the environment.
JPW won a City of Sydney Design Excellence Competition in 2015 with a tower and podium proposal which delivers multiple urban benefits – strengthening the Australia Square plaza and the definition of George Street; more sunlight and skyviews to the street, and a better wind environment for pedestrians – as well as meeting the client aim of a landmark hotel through a tall slender form crowned with a vibrant sky lobby,
Highly modelled streetwall facades in concrete, sandstone and folded aluminium respond to context in contemporary details and material, control energy use through high window/wall ratios and screen podium guest rooms and create intimate streetlife views from within.
The screens open at the corners creating more space and light for the street and revealing the crystalline glass tower extending above.
An ultra-high performance glass tower encloses guest rooms and the skylobby. A unique laminated mesh shading 55% of the glass surface gives the interior excellent energy performance, expansive outlook and a distinctive external metallic sheen.
A by Adina takes the sense of arrival to a whole new level. You leave the noise of the city behind as you walk through a sandstone colonnade flanked by a calming water feature, and arrive at a peaceful lift lobby. It's a sensory cleanse before you ride the lift to the sky lobby for our 'arrival' moment.
Allan Vidor
TOGA Managing Director
and Chairman of TFE Hotels
Guests enter through a three-storey Hunter Street colonnade and water feature before taking an express lift to check-in at the sky lobby
Simple materials – concrete, sandstone, basalt, aluminium and glass – are elevated through detail, innovation and craft.
Retail activates all street frontages and Curtin Place – previously a steep service lane – is renewed as a pedestrian friendly sun-soaked mini-plaza, enlivened by future outdoor dining and enriched by Emily Floyd's engaging artwork.
Close and creative collaborations with Carr Design [guest room interiors] and George Livissianis [restaurant fitout] have delivered a unified, holistic and consistent guest experience and architecture.
With 18 floors of rooms in varying size and type, extensive street level retail space and a sky lobby bar and restaurant, the design utilises innovative technical solutions to exceed the brief without compromising on generosity, spaciousness or sustainability.
What's really exciting is that you are not above the city, you are immersed in the skyline.
David McDonald
TFE Hotels Regional Manager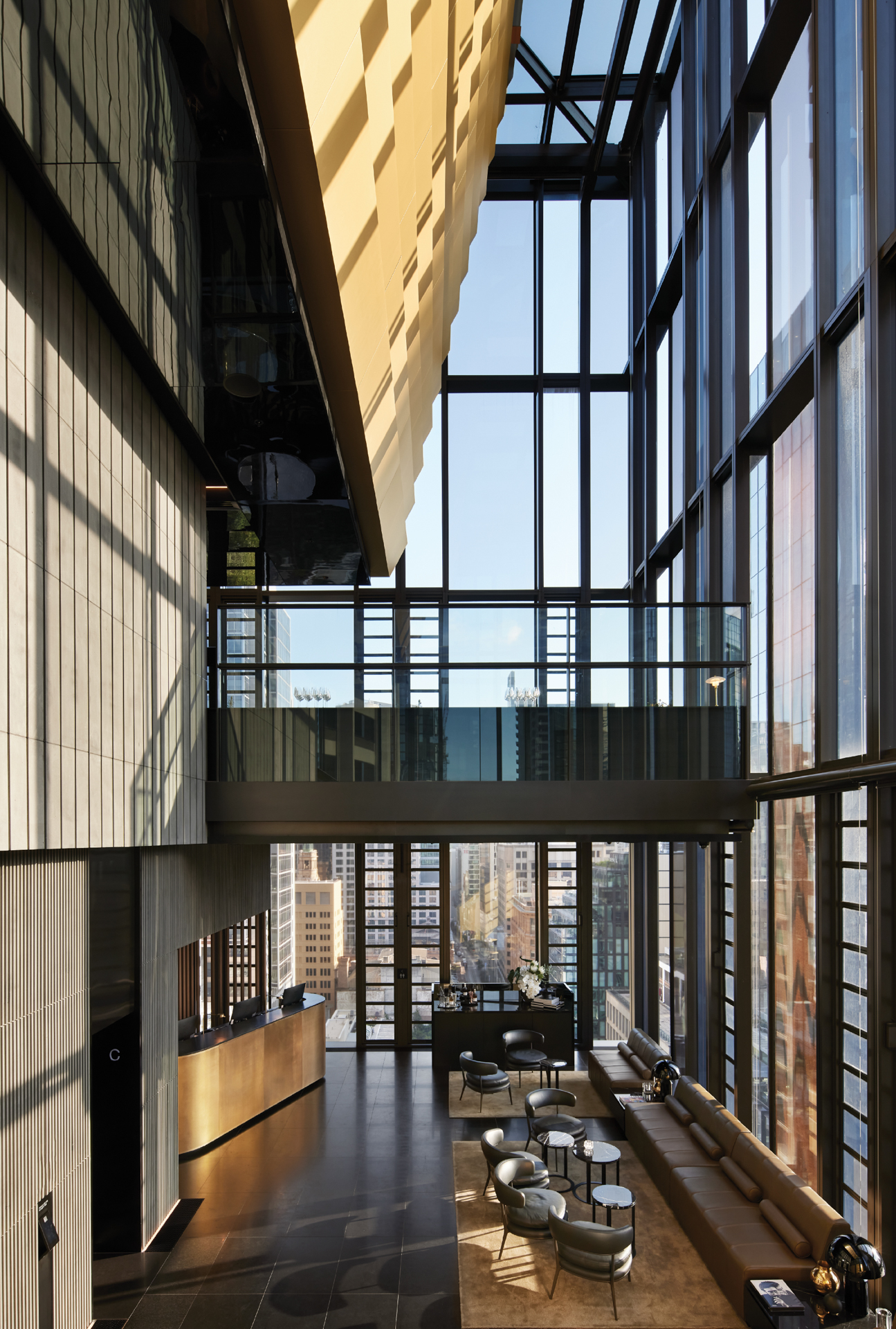 A 15M high glazed skylobby at the tower's crown sits within and overlooking the city roofscape.
All the hotel's public spaces and amenities – lobby, bar, restaurant, pool terrace and gym – are consolidated in a continuous multi-level volume wrapped around the core and below the illuminated bronze-clad roofplant.
Complex and intensive coordination with engineers and contractors delivered high quality performance and outcomes on a constrained site and within budget.
Guests in the sky lobby enjoy high thermal comfort while energy use is controlled though innovative glass, solar-responsive automatic blinds and natural ventilation. Integration of structure and façade creates expansive column-free outlook.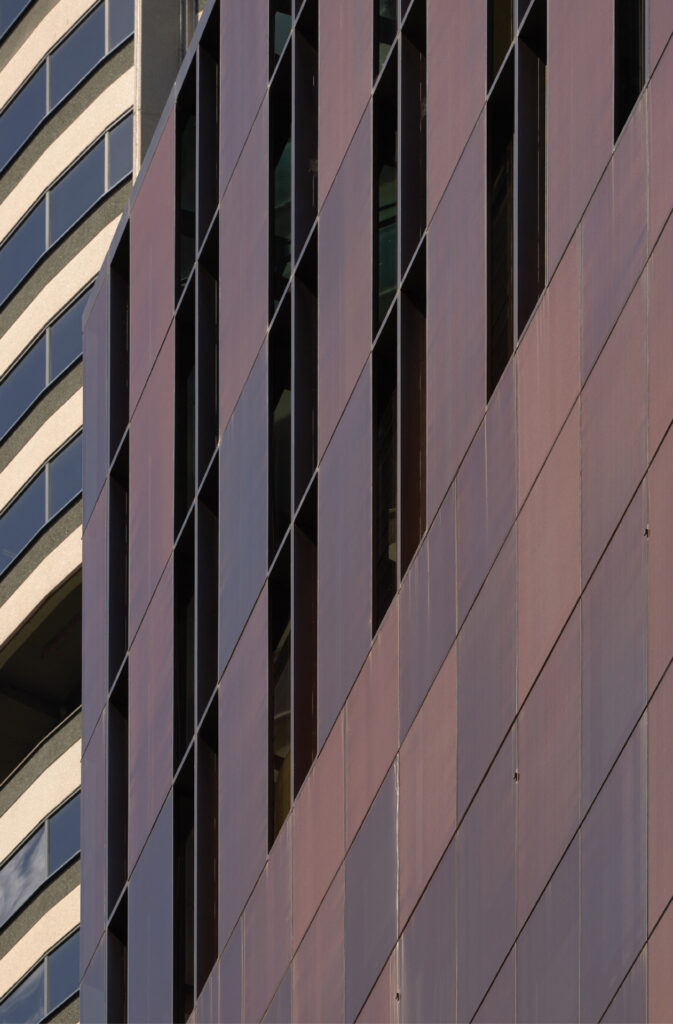 Glass incorporating mesh microshade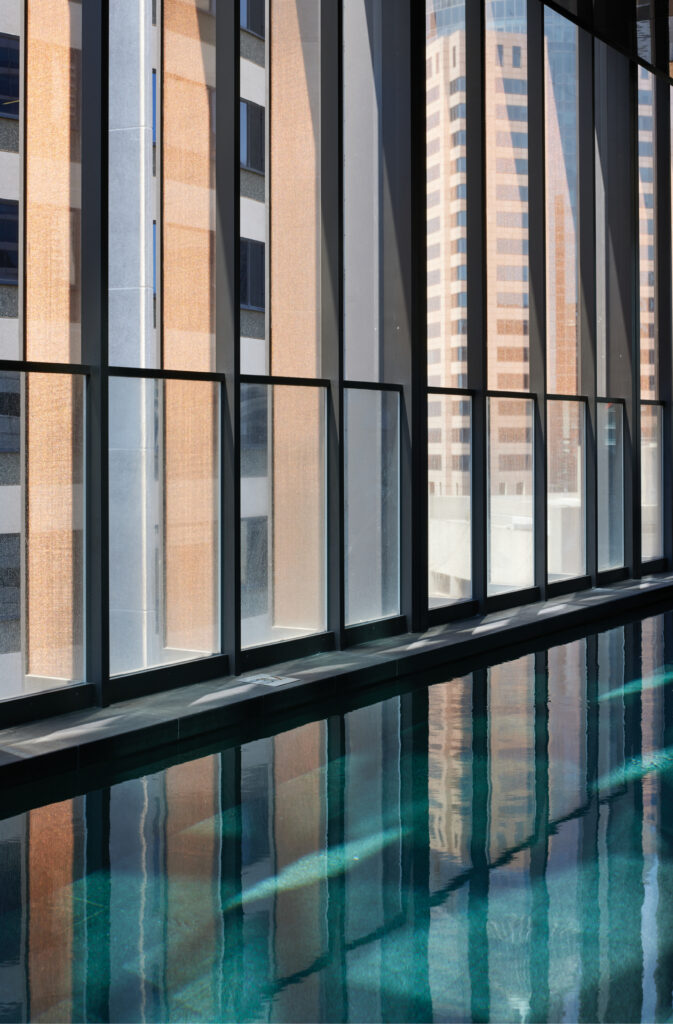 Skylobby Pool Terrace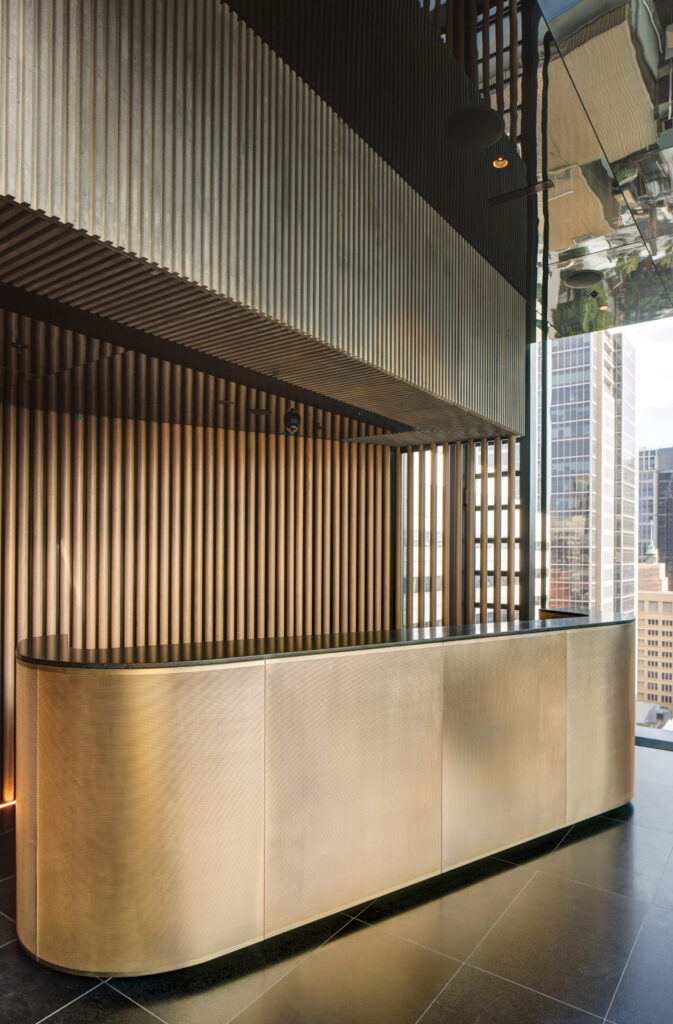 Skylobby Reception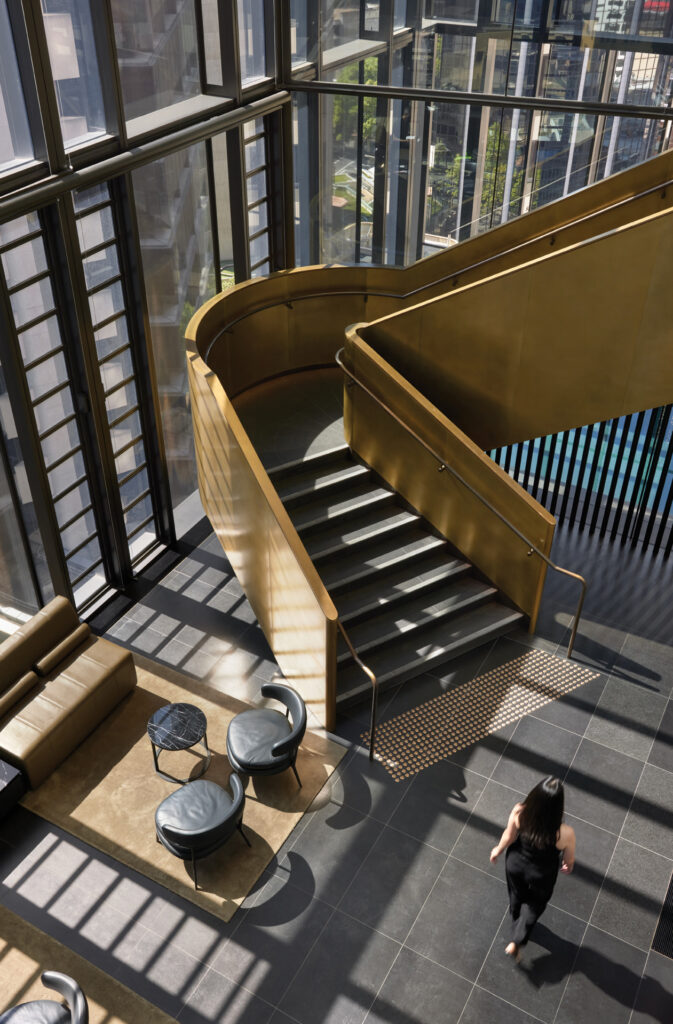 Stair to Restaurant and Bar
A by Adina has revitalised a small neglected George Street island site. The vibrant new landmark tower and mini-plaza enriches the urban environment and public domain; creates a contemporary, welcoming and comfortable city hotel; and in the public sky lobby, restaurant and bar, has created a unique, distinctive and memorable new Sydney place.
On level 22, you could be anywhere: Sydney, Tokyo, New York.
Stefano Catino
Co-owner
Dean and Nancy on 22.
TFE Hotels is historically a global leader in the apartment hotel space – so, it's incredibly meaningful and exciting to evolve and elevate the Adina brand to a timeless offering that's just the right fit and feel.
Allan Vidor
TOGA Managing Director
and Chairman of TFE Hotels