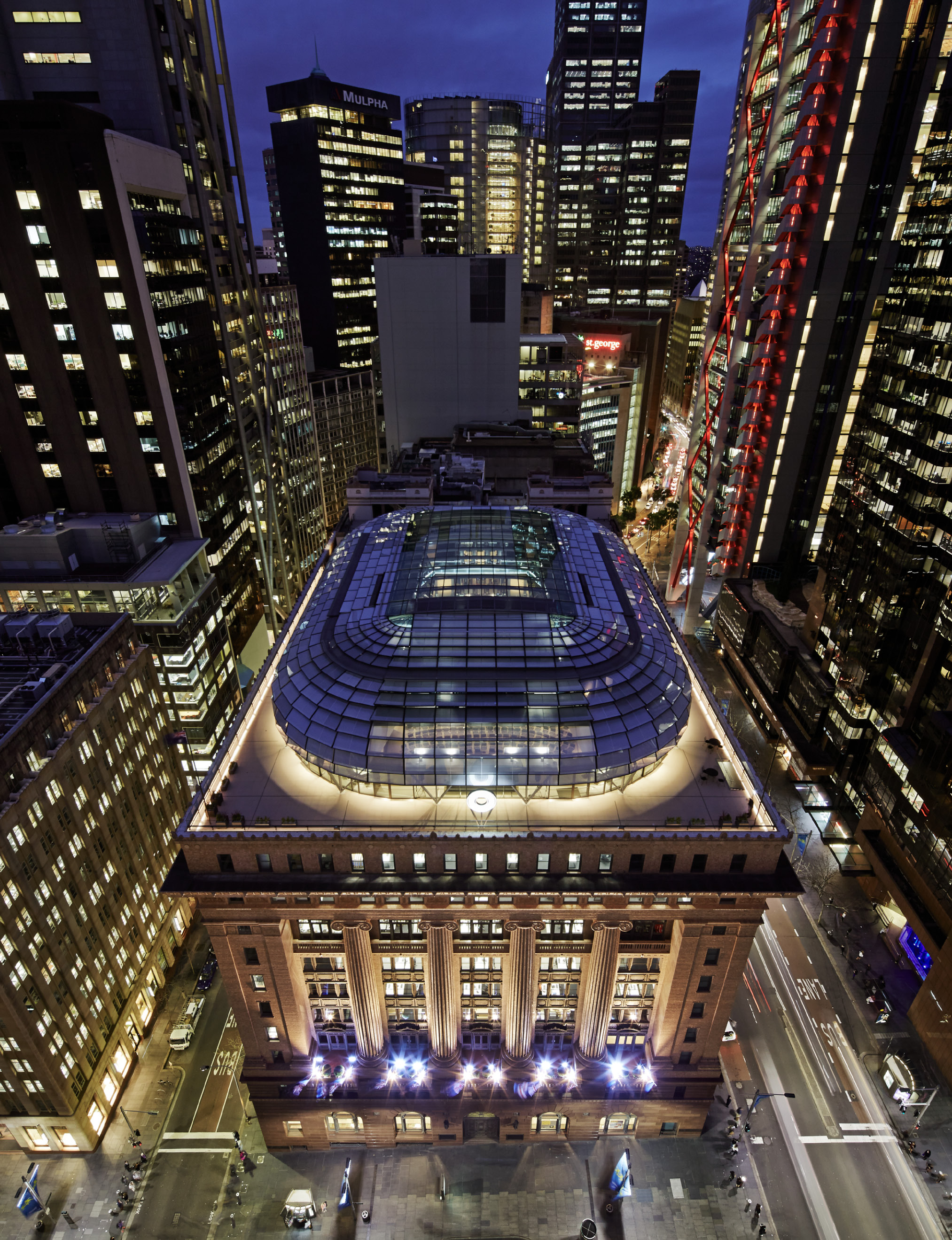 A contemporary rooftop addition and extensive internal transformation renews this nationally important heritage asset as the new global headquarters of Macquarie Group.
The intelligent re-use of the grand 1920's Martin Place bank building capitalizes on the inherent strengths of the original architecture including large sidecore floorplates, a regular column grid and central atrium. It features an enlarged and lightfilled atrium as the heart of the new workplace, and the worlds-first capsule lifts deliver clients to conference and meeting spaces within a fine steel and glass roof dome. 50 Martin Place is a building of high cultural, social and economic significance for Sydney and the refurbishment broadens its significance by establishing a new benchmark for sustainable design through building reuse.
The project is an exemplar of how collaborative teams can push the boundaries of commercially driven architecture and inspire those who reside and work within it.
AIA Jury Citation
Harry Seidler Award for
Commercial Architecture
2015
A masterstroke is the introduction of two cylindrical glass shuttle lifts. The lifts glide through this grand space in which structure and mechanical equipment are reduced to an absolute minimum. The collaboration and innovation essential to achieve this outcome cannot be understated.
Ken Maher
AA March/April 2015
50 Martin Place was recognised for innovation and excellence with major national awards across the building and development industry as well as architecture.
2015
Harry Seidler Award for Commercial Architecture,
AIA National Architecture Awards
2015
Sir Arthur G Stephenson Award for Commercial
Architecture
NSW Architecture Awards
2015
COLORBOND Award for Steel Architecture
NSW Architecture Awards
2015
Commendation
Sustainable Architecture Award
NSW Architecture Awards
2015
National Trust Award for Adaptive Reuse
National Trust Heritage Awards
2015
Outstanding Construction Award
Master Builders Association of NSW Awards
2016
Australian Development of the Year
Property Council of Australia Awards
50 Martin Place is without doubt one of the most significant heritage refurbishments in Australian history… The project will be remembered for the roof, the stairs and the glass lifts – but there is, as we know, so much more.
Will Walker and
Michael Silman
Macquarie Group
A masterful example of the best in sensitive and intelligent building addition, sophisticated engineering for aesthetics and sustainability, clever adaptive re-use and restoration, innovative workplace design and, most importantly, how to create a relevant legacy to complement great commercial architecture of the past.
AIA Jury Citation
Harry Seidler Award for Commercial Architecture 2015